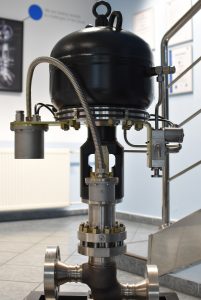 In May, we completed the supply of 49 valves for the Temelín NPP. 8 pieces of Quick-Acting Globe Valves with Below A13 were delivered from the production for nuclear energy and 41 pieces of low-pressure Shut-Off Globe Valves C09 and Ball Valves C05.1 were delivered from the production of industrial valves.
What is Quick-Acting Globe Valve?
We produce the A13 Quick-Acting Globe Valve specifically for nuclear power plants in the world as well as in the Czech Republic. During an accident or failure of a nuclear power plant, this valve remains active and controllable thanks to its own air reservoir, which is activated when required and the Quick-Acting Globe Valve can be then switched from open to closed position within 10 seconds. We have supplied this type of "emergency valve" to e.g. Temelín NPP and Dukovany NPP in the Czech Republic, Rajhastan NPP in India, Novovoronezh NPP and Rostov NPP in Russia and Mochovce NPP in the Slovak Republic.