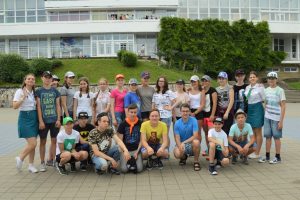 A total of 9 children of ARAKO employees – company based in Opava (belonging to Rosatom-Atomenergomash Corporation) participated in International Summer School of Research and Inventors, which took place in Orljonok International Children's Camp on the Black Sea Coast (Krasnodar Region, Russia) from 23rd June to 13th July 2017.
The international tour in camp "Zvjozdnyj" (Stellar), organized with the support of Rosatom State Atomic Energy Corporation under the "Rosatom School" project, was attended by 100 children from Czech Republic, Bulgaria, Hungary and Russia. Participants from Czech Republic were selected from children whose parents are ARAKO workers.
"All expenses paid for the children's stay was covered by Rosatom. Every applicant had to take apart in creative competition and send their applications to organizing committee. We are pleased about all talented children of our employees taking their parts in the international group. They were very impressed and gained beautiful and unforgettable memories" commented Pavlína Koligová, ARAKO Personnel Director.
The children were so far away from home for very first time and spent three weeks in a multilingual creative environment. Camping programme at Zvjozdnyj was offering interesting events – lectures and workshops to begin with to research projects orchestrated in various fields such as physics and natural sciences to journalism and contemporary art.
In addition to developing their creative potential, children also enjoyed the seaside and visited Sochi, the capital of the 2014 Winter Olympics, saw a dolphinarium, participated in festivals, competitions and sporting events.
I enjoyed this camp, however not just for being it placed at the seaside but also because it had an international atmosphere and helped me to communicate freely with people from other countries. We learned about team work, improved our English skills and also started to pick up our Russian. Unlike regular Czech camps, Orljonok camp offered a lot wider and exciting educational programme. Of course, it was super exciting to learn about cultural differences, one of the participants described her experience.