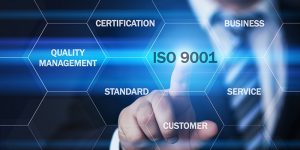 Under the supervision of auditors from TÜV SÜD Management Service and TÜV SÜD Czech on 8th and 9th October, we successfully defended the supervisory audit according to ISO 9001:2015 and Directive 2014/68/EU (module H) for pressure equipment.
We would like to thank all the employees who participated in the audit and contributed to its successful progress.
ISO 9001 is one of the most well-known standards that sets the requirements for a quality management system. Its whole principle is based on a simple principle, where the management of the company sets its goals and plans in the area of quality of its production and these are then gradually realized using the set processes.
The effectiveness of these processes is measured and monitored so that the company can take effective measures and changes where appropriate. ISO 9001:2015 also deals with the principles of documentation management, human resources, infrastructure, introduces customer communication processes, supplier evaluation, process performance measurement, as well as internal audits to get feedback.