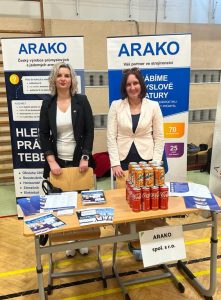 After a long "covid" break, ARAKO again participated in a meeting of representatives of engineering companies of the Opava region and students of SŠT KOLOFÍK called Strojaři strojařům, which took place in the premises of their school on April 28, 2022. This year, we were the only ones to represent the segment of production of industrial valves and we addressed over 160 students of both SŠP KOLOFÍK and SŠPU Opava.
At the event, we purposefully communicated with third-year students in the fields of Electrician, Locksmith, Miller, and graduation specialization Mechanic of Machines.We presented the students of the graduation courses of SŠPU Opava with the possibilities of working in our design department and in what programs we work in. We offered the addressed students the possibility of excursions in our company as well as opportunities for internships in individual fields.
We passed on contacts to the HR department and openly discussed the current situation.
The primary objective of the event was to acquaint and mediate for students contacts to HR managers of companies in which they could carry out their professional practice or find their future employment. As in the past, SŠT KOLOFÍK Opava invited representatives of 20 major engineering companies from the Opava region to its premises and we were glad that we could present ourselves and establish direct communication with potential candidates for work at ARAKO.
We thank the organizers of the event and look forward to the next year in 2023.