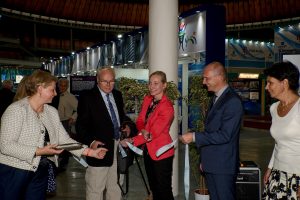 An exhibition dedicated to the 65th anniversary of the nuclear industry in the Czech Republic began its work as part of the International Engineering Fair in Brno. Active participation in it was taken by company ARAKO.
The exhibition reflects the history, modernity and possibilities of the Czech nuclear industry.
Guests and participants of the exhibition were Deputy Minister of Industry and Trade Silvana Yirotkova, Russian Ambassador Alexander Zmeevsky, representatives of the Rosatom company, well-known expert Frantisek Hezoučki, other famous personalities of the nuclear industry, as well as representatives of numerous Czech and foreign companies.
The development of the nuclear industry began in Czechoslovakia in 1955, two years later it became the ninth country in the world where a controlled nuclear fission chain reaction was carried out. Later, Czech companies began to supply components for nuclear reactors of the VVER type both to their own nuclear power plants and to foreign ones. In the future, the share of nuclear energy in electricity production will increase; it is planned to build 4 nuclear power units.
The exhibition will run until the end of 2020 and, thanks to its mobile nature, residents of other cities will be able to visit it.