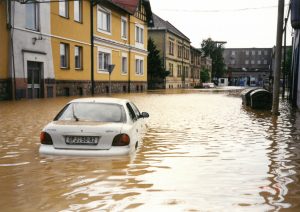 Destructive floods in Moravian region erupted during July 1997 and seriously affected our company. On 6th Jul , an hour before the main flood wave came, the residents of Opava town district called Kateřinky were alarmed by megaphone warnings to get ready as the flood was coming. The reality back then was that as ARAKO headquarters and factory as the largest town estate were situated in the close vicinity of Opava river bed which became crucial unfortunately. Water flooded the most of the factory and destroyed irrecoverably vast number of machinery. ARAKO was cut off from the rest of the town.
Local rescue lacked good experience in facing off destructive element and nobody was ready to take an immediate action. Apart from many estate residents there were also ARAKO workers whom later got trapped in the factory should they failed to leave the premises promptly. Once the water overflown its river bed, everything seemed to take a clockwork-like turns. Within approximately an hour, the water level had risen to 1 meter height and kept on rising even higher. All stranded employees were forced to stay in the factory overnight with no food or electricity.
Designer Kamil Salzmann recalls the event: "We remained on factory's first floor with a view of road that started to turn into a violent river carrying everything including cars on its way. As the water levels were rising fast, there were about twenty workers including myself staying in factory building overnight. In attempt to find something to eat, we tried to get into already flooded ground floor and thankfully later on somebody from neighborhood used stretched fishing line to send us some bread rolls so we didn't quite starve after all. The next day volunteer kayaking on local flooded streets finally rescued us. The flooding completely cut off Kateřinky district from the rest of the town and created, nowdays almost unbelievable stories of what happened to some local families or companies during that time.
The flood was widely discussed during the meeting of now retired employees last year. Mr. Václav Holoubek, back then undertaking apprenticeship at Minerva ( ARAKO predecessor) later started working at the company in 1959 and dedicated all of his life to his work career there, said: " Flooding started making its way on Monday when in several hours water reached as high as two meters and flooded the entire workshop area. Some of the office workers based on the first floor didn't manage to escape on time so they had to stay in factory overnight." "We didn't get into factory until Wednesday when I was the first one to open the workshop door to let us in." "It was terrible – all machine engines got flooded and majority of premises were covered in mud! We rushed ourselves into cleaning and all employees did their best to help wherever was needed. Although the manufacture future was uncertain, thanks to the team work and firmly set goals, we managed to succeed restoring the premises and with brand new workshop being built with renewed activities on their way up, the new modern ARAKO company restarted its business.
Zdeněk Chovanec, former ARAKO designer, NPP valve specialist and author of many national ČSN (GOST equivalent) standards, who started working at ARAKO in 1981 says: "The vast flood in 1997 almost knocked the company out as the entire factory was destroyed." During its shutdown taking several months, brand new workshops were built on exactly same place where ARAKO has had been based up until now. All of the former company buildings were sold subsequently. It was very hectic and stressful time for employees providing their help wherever was needed, meanwhile their own homes were destroyed at times. The same happened in my case when I was doing my best to save my own home and the company as well. Eventually ARAKO manufacturer opened new and modernized factory, however the financial losses were so extensive some of the company departments had to repeatedly follow stages of releasing some of their employees. As a result, the company consolidated their staff of about 200 people. Suddenly the remaining workers were put under pressure to increase their work productivity and perform as well as formerly engaged 1000 employees. Orders confirmed by nuclear power plants started to occur again. Temelín NPP was completed whilst Mochovce NNP construction development was being prepared in Slovakia. We also commenced our supplies to India and other nuclear power plants worldwide.
ARAKO company has had its new headquarters and factory based at Hviezdoslavova Street ever since and still proudly waves the flag of valve manufacturer in Opava's factory. The company is also grateful to its employees for their contribution during the company development. ARAKO has been benefiting from these foundations up until now.
For information:
On 5th July 1997 intensive and continuous rains started causing heavy floods. Apart from Moravia region vast areas in Poland, Slovakia and Austria were affected. Water caused the most destructive damages in Eastern Bohemia and across the rest of Moravia and Silesia regions. An immense wood and farmland areas got flooded as well as road and railway network got paralysed completely.
The floods claimed fifty human lives and extensive material damages – over two thousand homes were destroyed, almost six thousand were uninhabitable for a long time and eighteen thousand were damaged. In addition, main roads were undermined and 26 bridges were pulled down. The overall losses reached 63 milliard Czech crowns. Large towns and cities such as Opava, Ostrava, Olomouc, Přerov, Otrokovice and more were affected just as well. The village of Troubky lying at the confluence of Morava and Bečva rivers was totally flattened out.
Despite of large tangible losses, the flood had proved ourselves to unite as a nation and keeping together when needed. Voluntary support from ordinary citizens of Bohemia was flown to Moravia and many volunteers from east of Czech Republic helped as well. The Czech Army gained a good reputation for being able to respond quickly and act promptly.