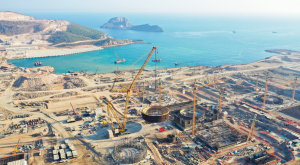 On 24 – 26 May 2022, our company was audited by representatives of NDK (Nuclear Regulation Board ) and NÜTED (Nükleer Teknik Destek Anonim Şirketi) for compliance with the requirements of the Quality Management System in the framework of the contract for the supply of valves for the construction of the machine rooms of Units 1, 2, 3 and 4 of the Akkuyu Nuclear Power Plant in Turkey.
The formal introduction of the audit was followed by a tour of the plant during which we presented the storage of metallurgical material, production of components, welding, welding and heat treatment processes, assembly and pressure testing, inspection and testing, ensuring metrological requirements, painting, preservation and packaging of valves. Identification and traceability throughout the product manufacturing process was verified.
Further audit work focused on communication, change management, quality control and assurance processes, internal quality audit management, non-conformance management, corrective action and risk management. Another part of the audit covered the procurement of materials, evaluation of suppliers, procurement of services, management of counterfeit, fraudulent and suspect items, control and scheduling of maintenance of machinery and equipment, conducting non-destructive and destructive testing, personnel management and qualification of employees, and storage and protection of records and documentation. The audit concluded with an examination of how the Safety Culture is managed and enforced by management and senior staff.
During the final evaluation, which was attended by the Executice Director, the representatives of NDK and NUTED concluded that ARAKO had fully demonstrated its capability to meet the requirements for the supply of valves for the Akkuyu NPP. The company's audit readiness, audit organisation, sophisticated documented system and staff expertise were assessed as very good.
What is NDK and NÜTED?
In 2018, a new nuclear regulatory authority, the Nuclear Regulation Board (NDK), was established in Turkey. Nuclear safety oversight and radiation control responsibilities were transferred to the NDK. The NDK is a state legal entity and is completely independent in terms of legislation and budget. Five members of its leadership were appointed by the President within two months. The new office will be based in Ankara and will employ 200 officials and 120 nuclear and technical experts. In addition, a joint stock company, Nükleer Teknik Destek Anonim Şirketi (NÜTED), has been set up to provide technical assistance to the new office for analysis, consultation, inspection and training. NDK holds a 51% stake in this company.