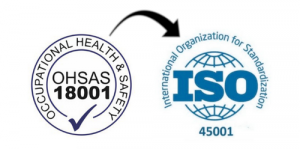 At the end of July, we invited representatives of TÜV SÜD Czech to the premises of ARAKO to evaluate our processes in terms of internationally recognized standards ISO 14001:2015 and OHSAS 18001:2007. After three days of careful monitoring and evaluation of our operation, company ARAKO Ltd. successfully managed the supervisory audit of both systems and we were recognized transition from OHSAS 18001:2007 to the new ISO 45001:2018 standart.
What the new ISO 45001:2018 standard discusses
The purpose of OHSAS 18001 was to enable the organisation to manage risks and improve OSH performance, while the purpose of ISO 45001 is to enable the organisation to proactively improve OSH performance in the prevention of accidents and harm to health. The new ISO 45001 standard is therefore primarily focused on risk prevention and proactive management and provides guidance and procedures that enable organizations to create safe workplaces by preventing accidents at work, illness and fatalities and actively improving OSH performance.
We emphasize quality and modern working environment and we take certificates as independent confirmation that we really care about the quality of our services. We pride ourselves on reliability, efficiency of work or even the ability to cope with non-standard orders. This is not something a potential customer/supplier needs to know about us at all, and here comes a number of certifications from independent audit firms. We are glad that we have also managed this difficult task and once again proved that company ARAKO Ltd. can meet even the most demanding requirements and be a strong partner in engineering.