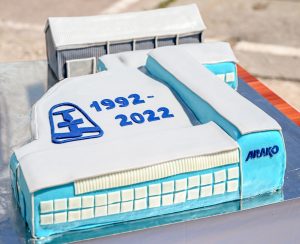 On June 26, 1992, ARAKO was officially founded under the new name ARAKO spol. s r.o. On this occasion, we took the opportunity to gather together with our employees at the beginning of June to celebrate this anniversary. As it was a celebration of the ARAKO brand from the start, everything took place on the company premises with cake, delicious food on the grill and fun for all. You can see how much fun we had in our photo gallery or in the video on our social media.
A lot has changed in three decades, but we still have employees around us who remember this change in our history. For example, the construction of our new hall, which we had to stop in 1997 due to a major flood. Or 1998, in which we introduced a new product range from Germany, including a prototype product – the Gate Valve S38. This product was later very well supplied to the Shell refinery in Germany for decades. In 2005-2008, our first deliveries of nuclear valves for the Kudankulam NPP units 1 and 2 in India have already started. We have not lagged behind in the development and expansion of our product portfolio. In 2003 we completed the development and started production of the Pneumatic Control Valve Y70, in 2006 the High-Pressure Shut-Off Globe Valve V46.2, in 2008 the Blow-Out and Pickling
Device – special for SIEMENS, and in 2010 the Forged Gate Valve S43. Another significant milestone for our company took place in 2007, when we became part of Atomenergomash Group, the engineering division of Rosatom, and this year marks 15 years of ownership. At this stage, our company has undergone extensive production modernisation, in 2010-2016 we made significant deliveries of valves for Units 3 and 4 of the Mochovce NPP in Slovakia, and we have already started to win contracts for the currently running projects for the construction of new nuclear power plants in Rooppur in Bangladesh, Akkuyu in Turkey, Kudankulam in India and other projects, El Dabaa in Egypt, and Paks II. in Hungary.