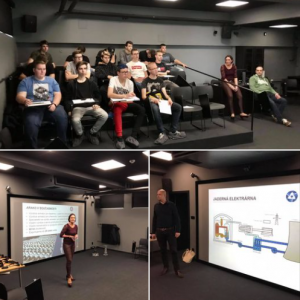 At the end of October and November Kamila Gregořicová (Marketing), Tomáš Machon (Service) and Václav Kubín (Calculation Engineer) presented the entertaining form to students of the 3rd year of the Technical Secondary School KOLOFÍK, what we produce and what we deal with.

The joint 90-minute meetings took place in four stages and we presented ARAKO, the most important milestones and industry focus, to toolmakers, machinists, locksmiths, electricians. We pointed out the future of nuclear power in the Czech Republic and around the world. Through an interactive presentation, we introduced students to what constitutes the development, production and service of industrial valves. We also presented them with individual practical examples and actively involved them in our interpretation.
We enjoyed the preparation and the lecture itself together with the students and were very happy to meet together.