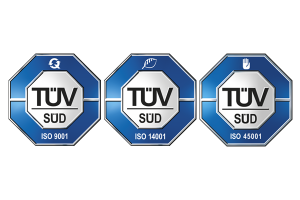 From 19 to 22 April 2021, ARAKO s.r.o. carried out a recertification audit of the integrated management system executed by TÜV SÜD Czech.
Company ARAKO has once again demonstrated consistent compliance with the requirements of the quality management system standards according to ISO 9001: 2015, environmental management according to ISO 14001: 2015 and the occupational safety and health management system according to ISO 45001: 2018. The auditors of TÜV SÜD Czech evaluated very positively the responses of employees to the audit team's questions in the production and administrative premises of our company. Employees at all levels of the organization have demonstrated their quality approach to the activities performed with regard to the quality of products and services, the environment and the safety of themselves and their co-workers. The certificate was defended for the next 3 years with the system, which will be audited once a year as part of supervisory audits.
The integration of systems has resulted in a significant reduction in the cost of maintenance of certification and elimination of duplication of certain activities within the company system.