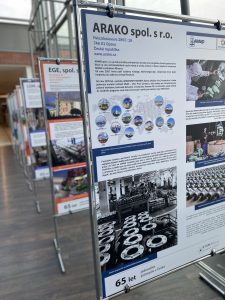 On June 17, representatives of ARAKO together with their former employees ceremoniously opened an  exhibition of 65 years of the nuclear industry in Czechia, which has already been seen by thousands of people throughout the Czech Republic. The exhibition presents the history, the present and the ability of the Czech nuclear industry in the Czech Republic.
A part of this exhibition is also an Opava manufacturer, the company ARAKO spol. s r.o. Thanks to years of experiences, when the first production of nuclear valves began in 1976, today ARAKO is the number one company on the Czech market in the production of industrial nuclear valves for the type of Russian nuclear power plants of the VVER type. It is no secret, that ARAKO is a successful exporter of its valves abroad. This is almost ninety percent of its production and today it exports to 25 countries around the world.
The nuclear industry, research and education began to unravel in 1955, and two years later Czechoslovakia became the ninth country in the world which realized a controlled chain fission response. Later, Czech companies, including ARAKO, became suppliers of components for VVER reactors built in the then Eastern Block and produced several dozen reactor sets. This history is followed by the supply of components and services for both domestic and foreign.
A reminder of the history of the nuclear industry offered the opportunity to connect the event with former employees and together remember the time when we started with the production and supply of nuclear valves in Opava. Stanislav Ivanov – Marketing Director of Rosatom Central Europe was also present among the guests of the opening ceremony of the exhibition. In his speech, he stressed the importance of ARAKO as a supplier of industrial nuclear valves in the world and highlighted its achievements in 2019: "ARAKO is now a member of the Rosatom group and a traditional and reliable supplier of valves for Rosatom projects around the world. As an example, I can mention the supplies for nuclear power in 2019, when ARAKO supplied 1,300 pc of valves, worth almost 8 millions EUR to the Kudankulam, Kurská, Kalininská, Leningradská, Belarusian and Smolensk nuclear power plants, of which about 90% was earmarked for 3. and 4. blok of NPP Kudankulam in India."
Today it is decided what form the Czech nuclear energy will take in the future. According to the State Energy Concept, its share of electricity generation is to grow and up to four new blocks are to be built. Czech companies want to show through this exhibition that they have experiences and that they are ready to participate in the construction of nuclear power plants again to the maximum extent possible, because our industry has nuclear power plants, research reactors, and even one school reactor, and now it is being solved how it is able to participate in the construction of new nuclear blocks.
And as for ARAKO?
ARAKO has already won new contracts for other Rosatom projects, namely projects for the supply of nuclear valves for the construction of nuclear power plants Hanhikivi in Finland, Akkuyu in Turkey, Kudankulam in India, Paks in Hungary and El Dabaa in Egypt. Of course, Rosatom will also count on the supplies of ARAKO in case of the construction of new resources in the Czech Republic